The mattress industry has developed for nearly 200 years, during which it has undergone three butterfly changes. At present, in the "third mattress revolution" period, mattress products have already broken away from the inherent single product form and entered into a broader multi-dimensional space system. From the "supporting layer revolution" initiated by the first generation of spring mattresses to the "comfort revolution" brought by the application of new materials such as natural latex and memory cotton, the third mattress revolution means more the reconstruction of healthy sleeping space.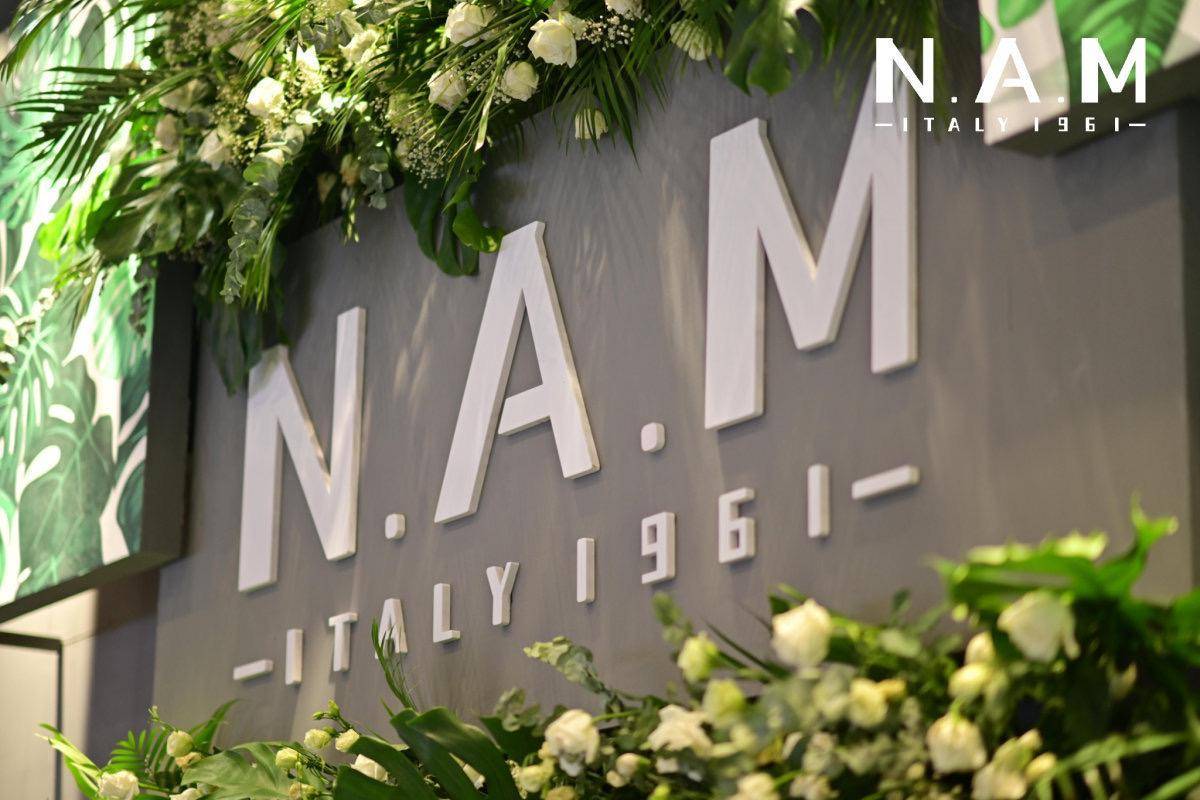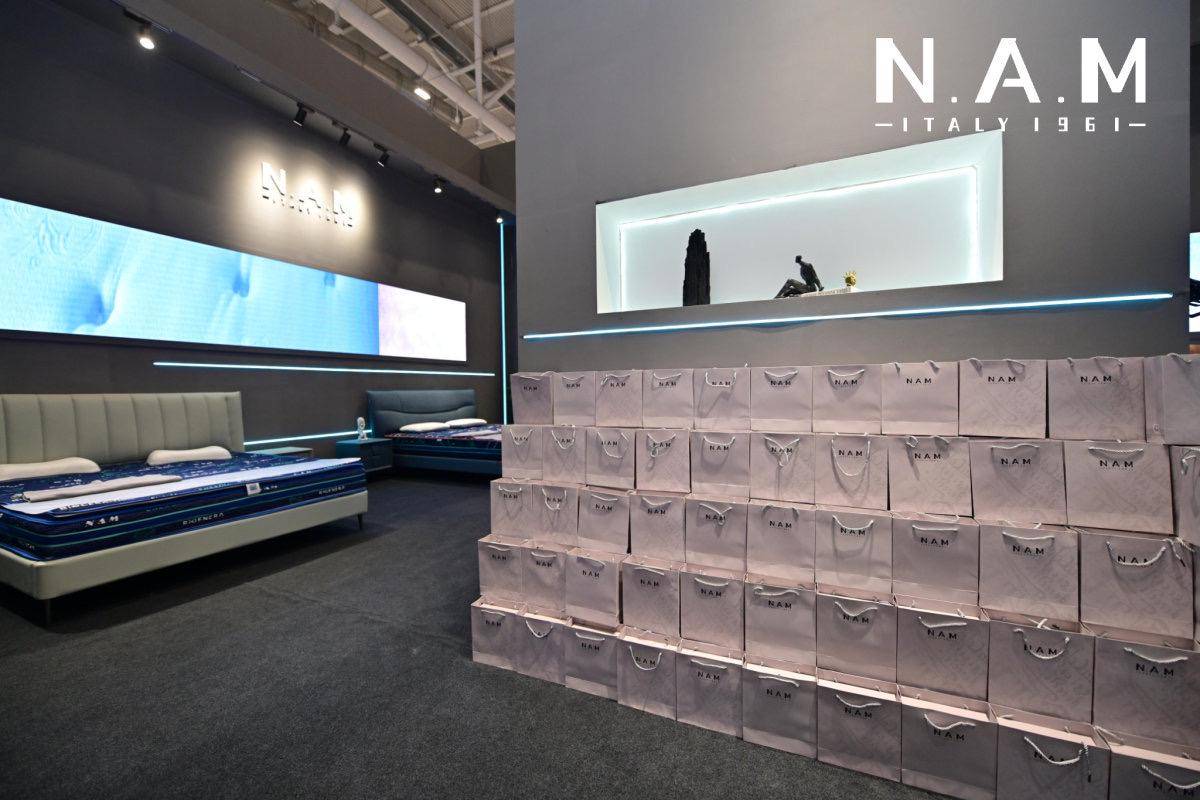 On August 20-23, at Shenzhen Fashion Home Design Week and the 35th Shenzhen International Furniture Fair (hereinafter referred to as "Shenzhen Exhibition"), N.A.M, an emerging technology bedding brand from Italy, combined international front-end intelligent technology with the world's leading standard of healthy sleep, showing amazing hard core strength and refreshing consumers' and market's cognition of healthy sleep experience.
Material innovation, technological innovation, and new product series are unveiled
The appearance of Italian N.A.M exhibitors in Shenzhen is also the first show of its brand in the Chinese market. As a high-quality commercial design exhibition in the domestic furniture industry, Shenzhen Exhibition has always adhered to "design-oriented, trend-oriented, continuous innovation", taking design as a link and integrating with urban culture, which has increasingly become a strategic platform for "connecting international design resources with Chinese manufacturing" and "Chinese manufacturing seeking international and domestic markets".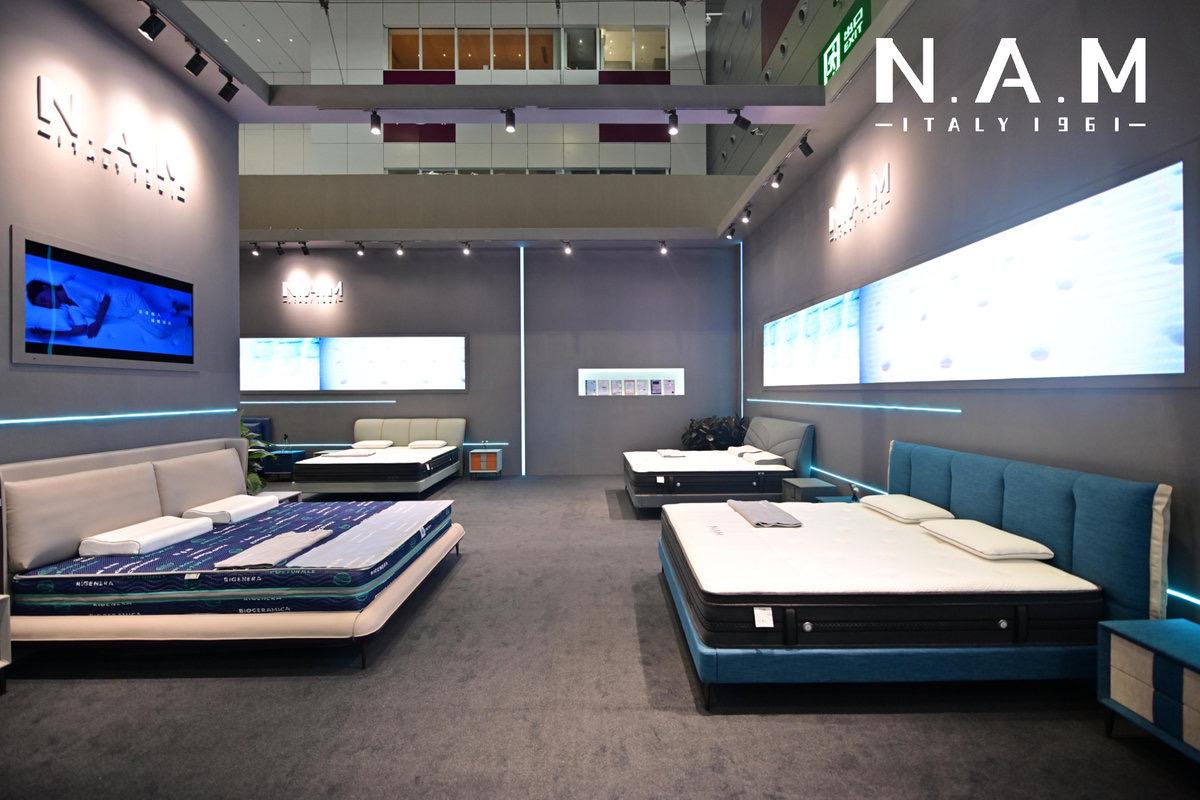 Choosing the first stage of Shenzhen booth, Italy's N.A.M not only presented a booth design with a sense of technology with visual impact, but also exhibited a bedding product series that combines international cutting-edge technology with the world's leading sleep experience.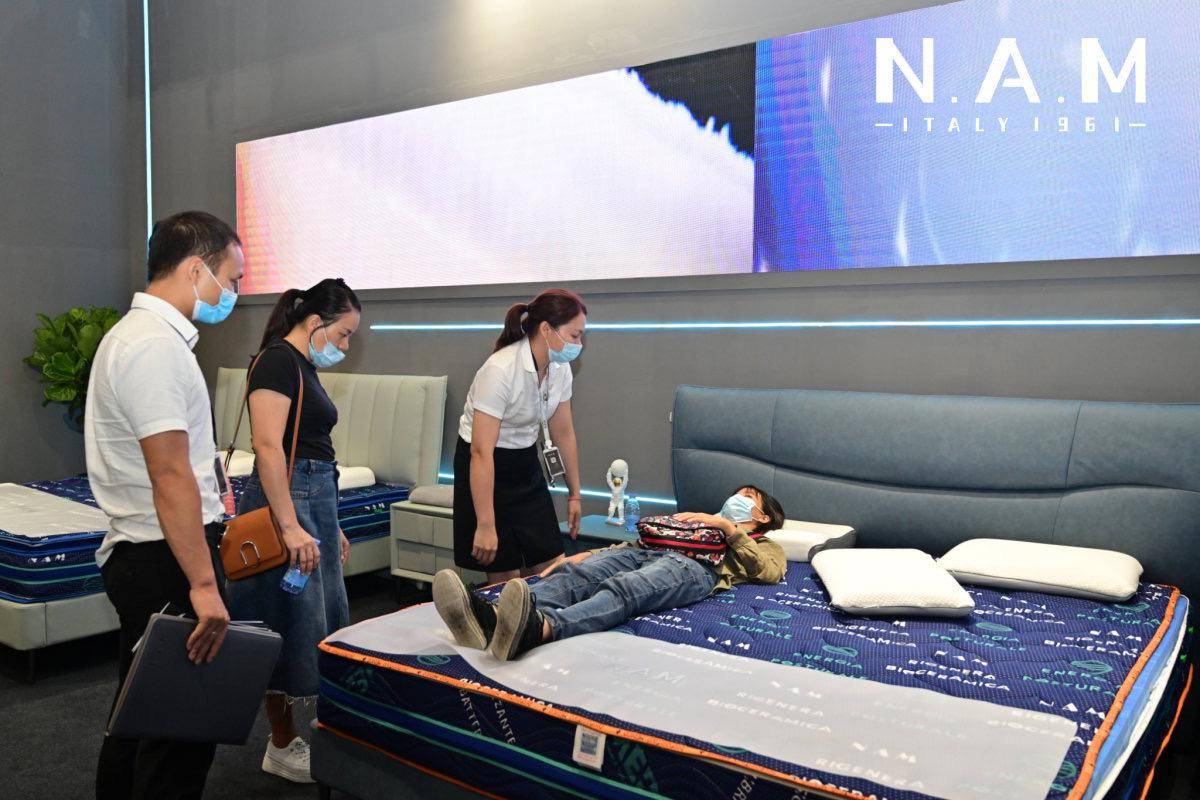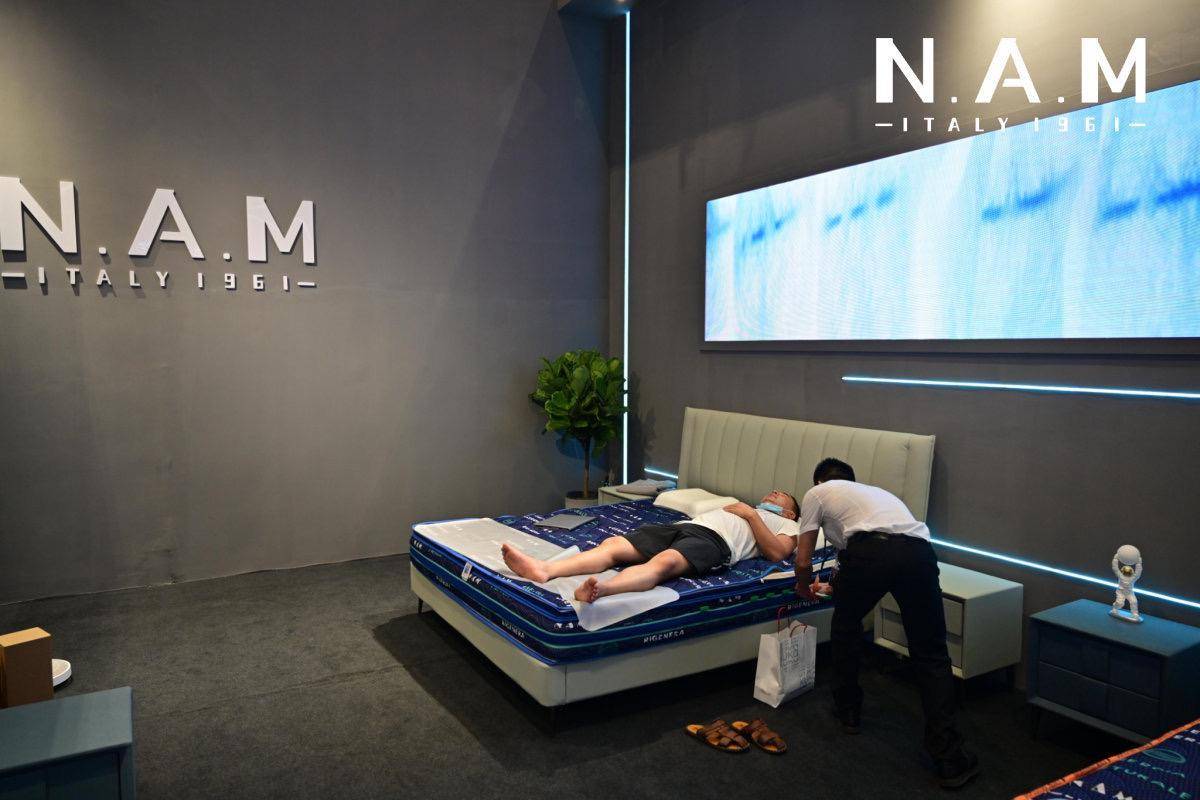 "International Series" Romain GM002 mattress, with 12 ridge-protecting adjusting strips, can adjust sleeping feeling according to human physiological curves, meet the needs of people of different sizes, and perfectly realize the fusion of technology and artistic romance.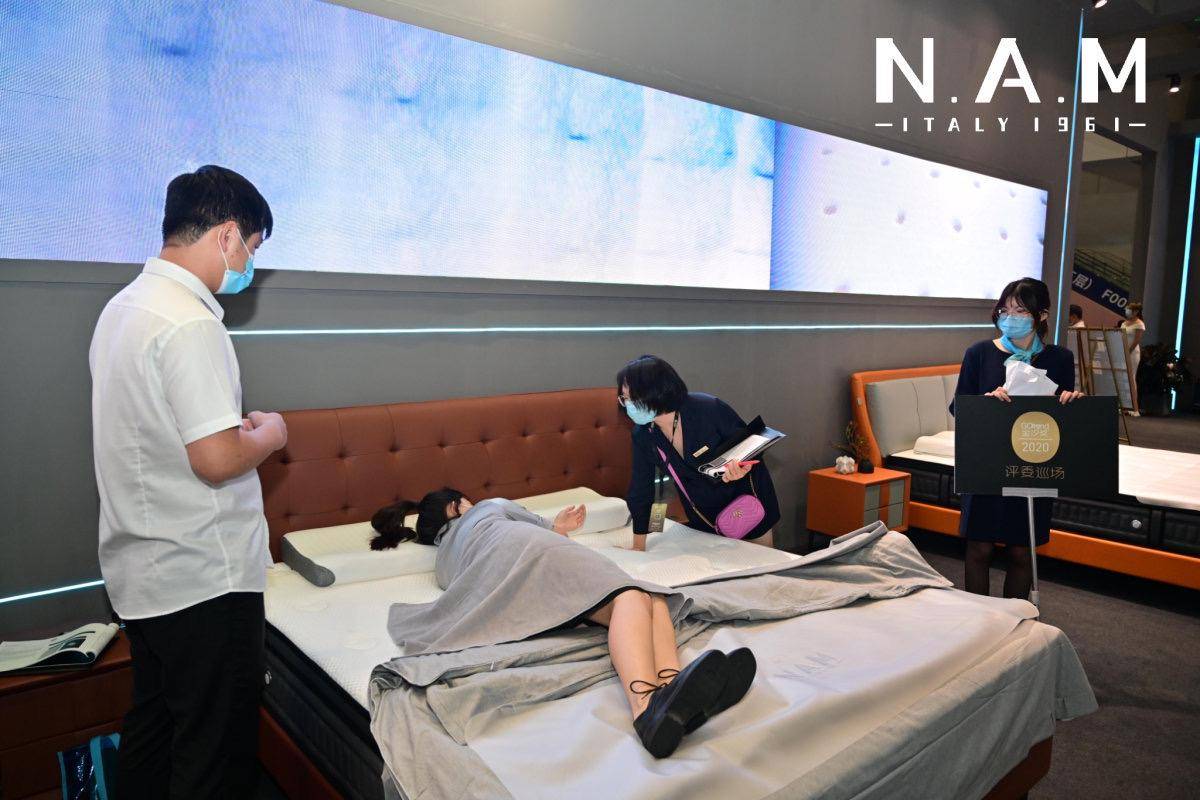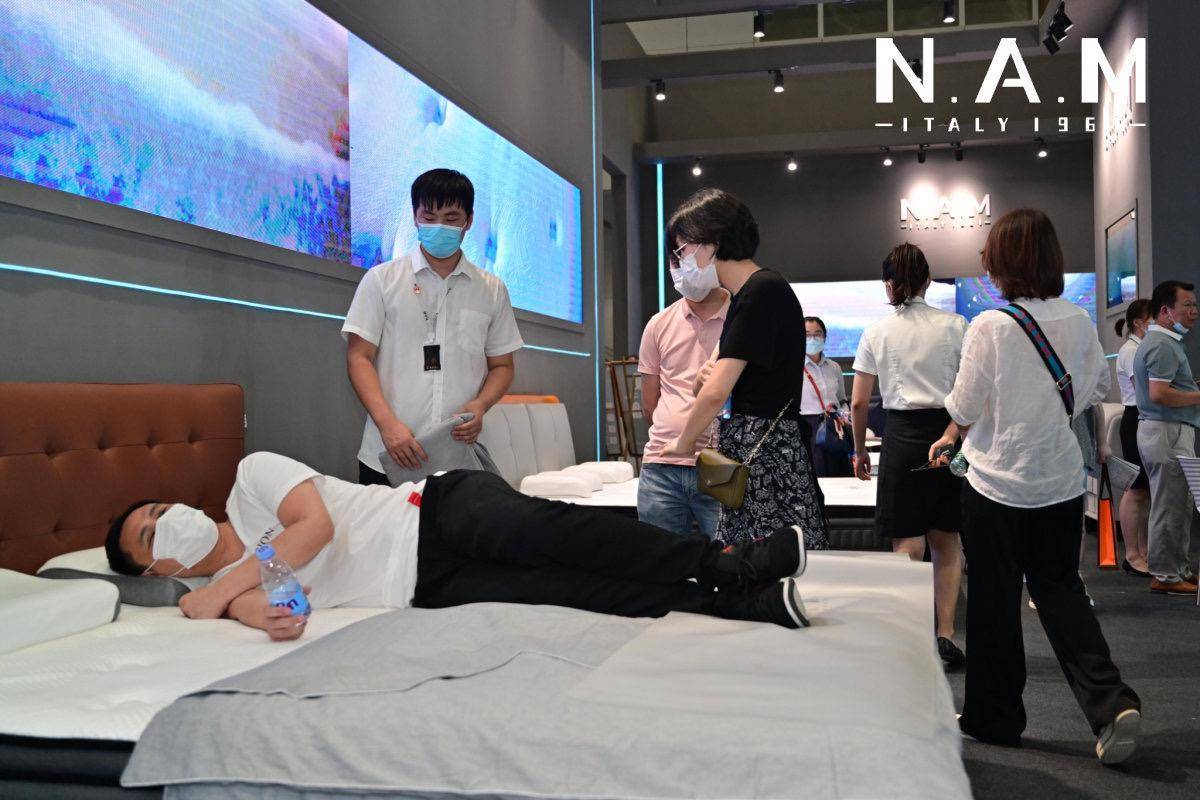 The "Good Sleeping Series" JM011 mattress in Harbour, which was researched and developed with "good sleep and good sleep", was even shortlisted for Shenzhen Exhibition Golden Jubilee Award. Unique sub-regional design meets the romantic needs of the young couple for close contact and barrier-free.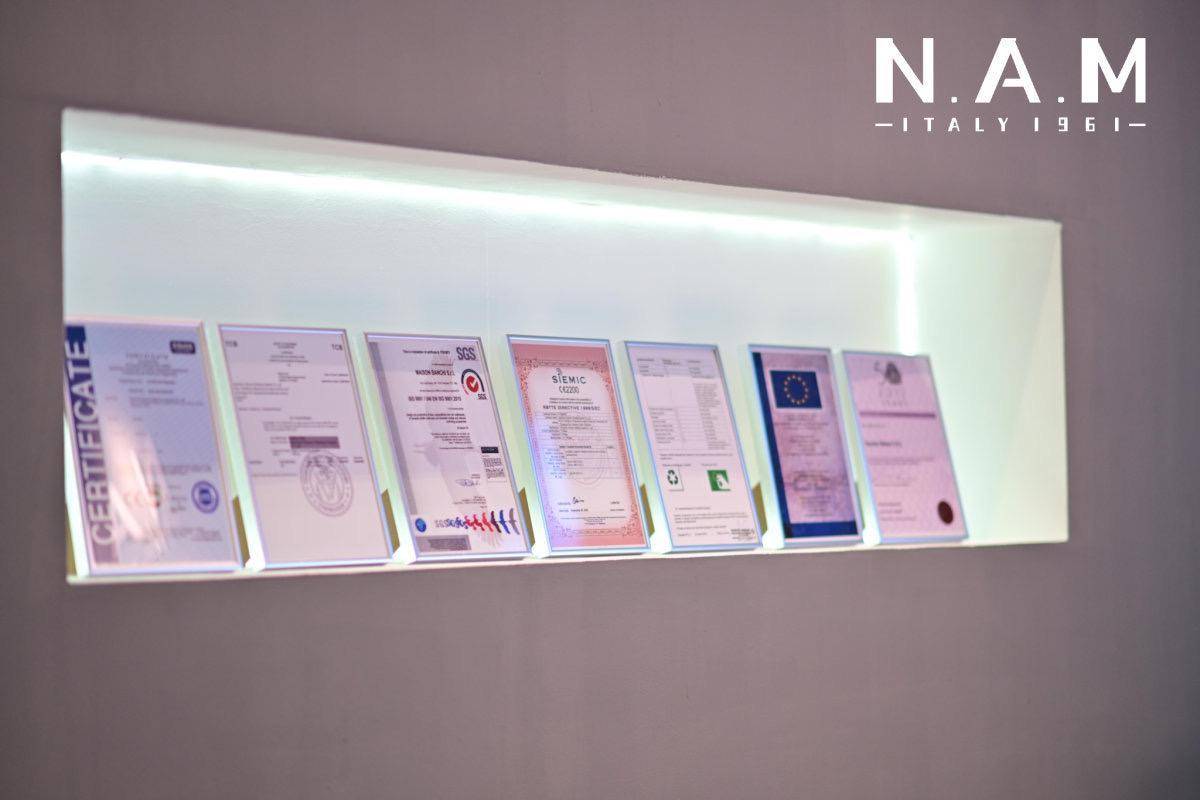 Italy's N.A.M polishes its product series with exquisite craftsmanship, which not only sets up a special technical team, develops suitable products according to the physiological structure of Chinese people, and fully meets the individualized sleep needs of different groups of people, but also creates a brand-new healthy sleep experience in the intelligent era from multiple dimensions such as material innovation, process optimization and technology intervention.
Immersive experience, personalized service and Italian international service are favored
The exhibition of N.A.M is not only the first show of the brand, but also the "muscle show" of technical strength. The ——AI intelligent mattress, a key "black technology", breaks through the traditional definition of mattress, breaks through the limitation of softness and hardness, and can automatically adjust according to the human body structure and fully realize the support for the human body.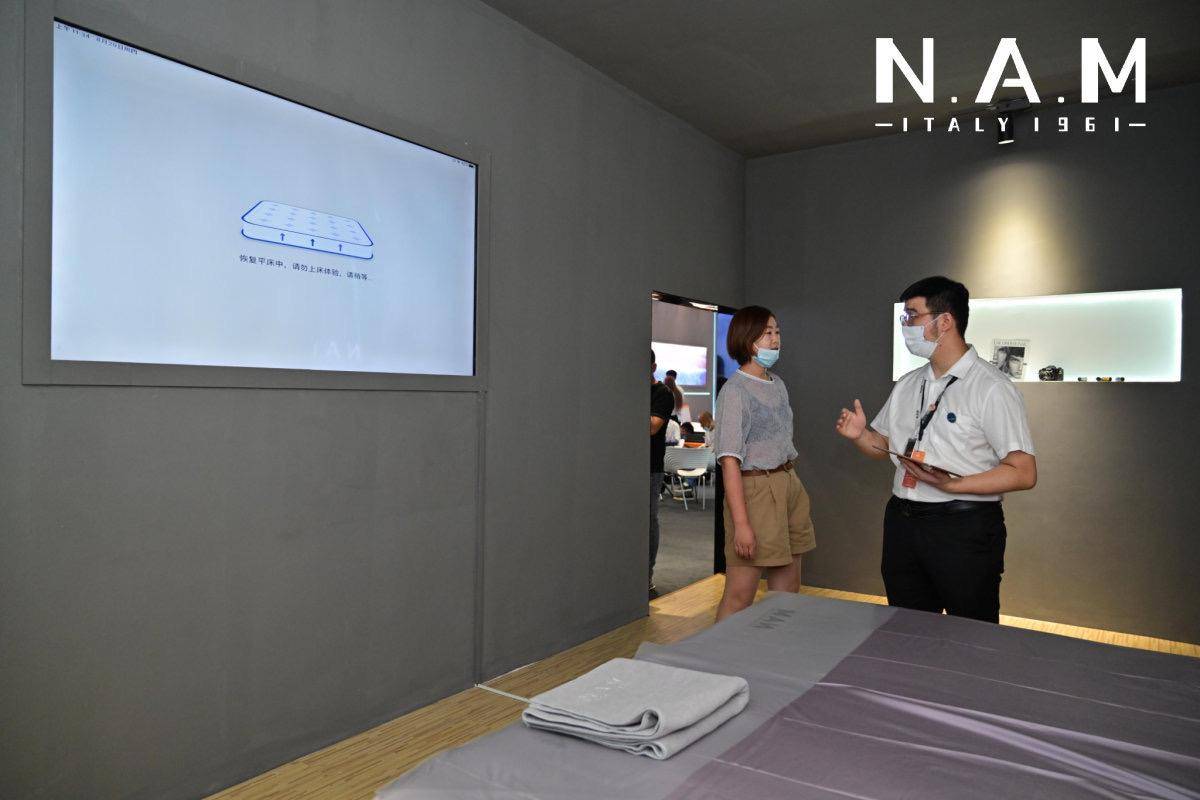 By restoring the family bedroom scene one by one and combining with the latest intelligent sleep technology system of N.A.M, the professional visitors and designers of the exhibition can feel the charm of N.A.M products at zero distance.
"The future of mattress brand is not only to develop and produce a suitable soft and hard mattress, but also to create an ideal healthy and deep sleep space." Mr. Huang, an interior professional designer after the on-site experience, said that from his own experience, customers now put forward more new demands for the design and decoration of bedrooms. He is very happy to see the brand N.A.M exhibiting this time, which brings new thinking for his design and also has new purchasing choices.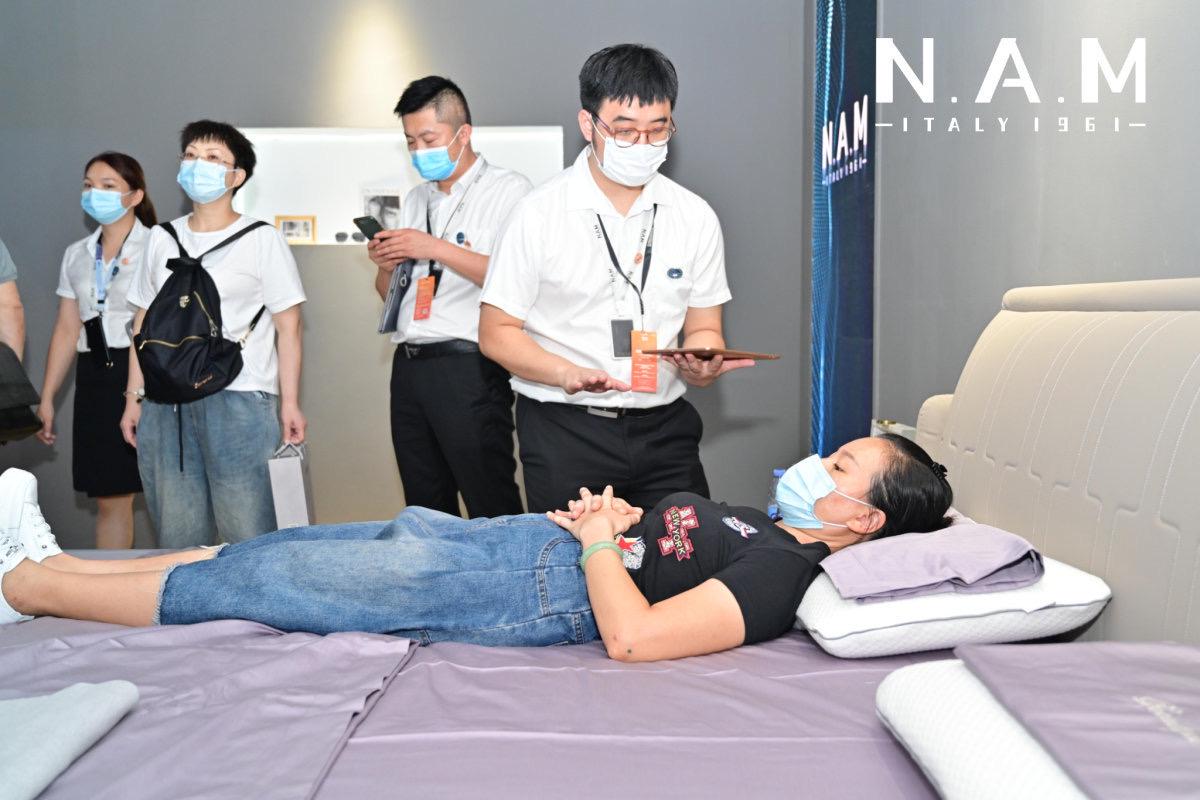 At the same time, the current consumption trend also drives the brand to change from product manufacturer to service provider, and consumers pay more attention to "what kind of sleep experience products can give themselves".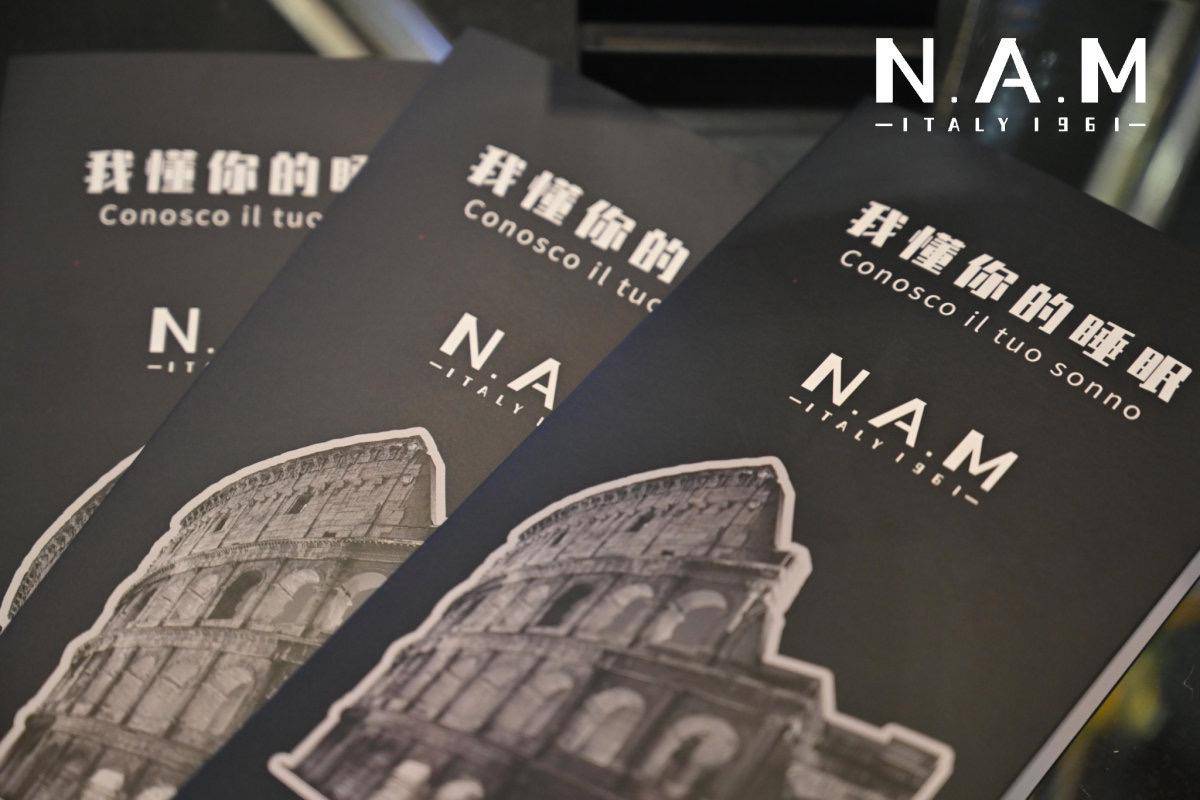 Italy's N.A.M entered the Chinese market under such an opportunity, and continuously followed the physiological signs and sleep structure of users to improve and optimize its products with the "every9" system, a sleep experience system that "sleeps for eight hours more than every night", which is also a good inspiration for the domestic mattress industry and its brands.
Online celebrity punch card, Daren evaluation, N.A.M became a hot spot in the exhibition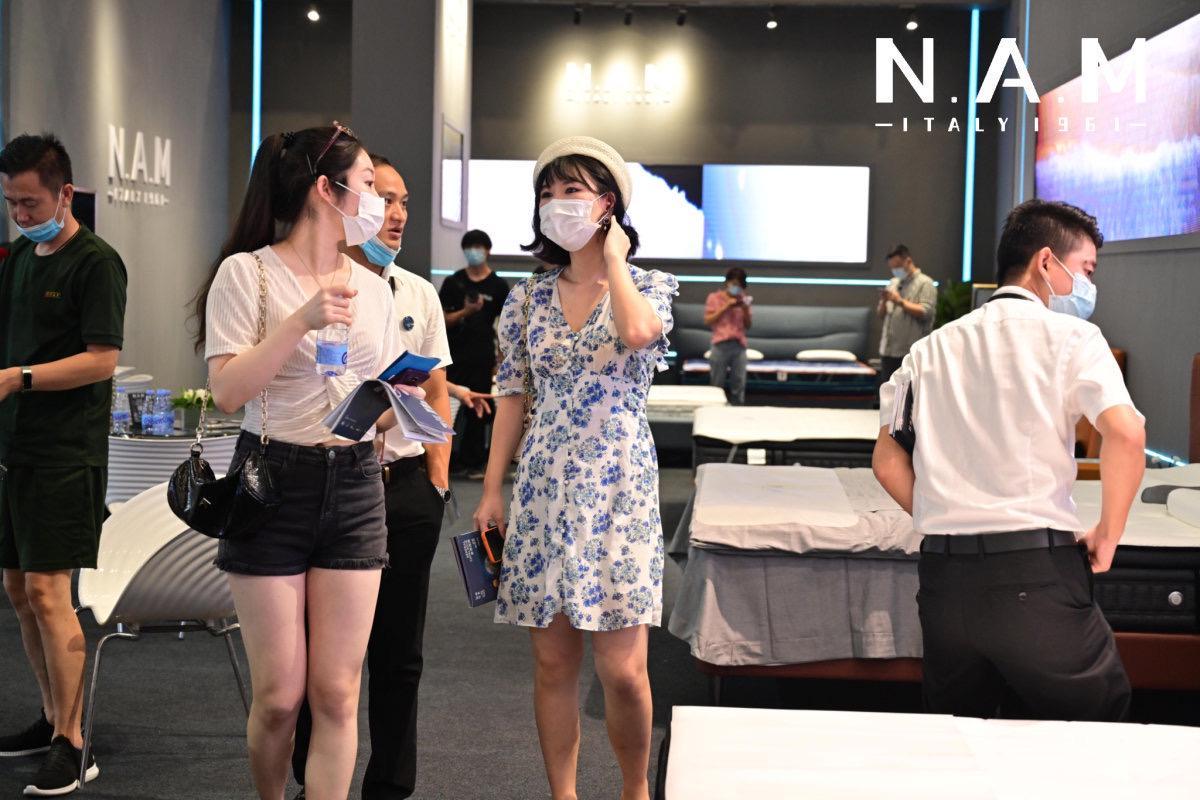 Low-key and extraordinary international booth is bound to be the eye-catching point in the exhibition. Italy's N.A.M's unique design and brand-new products attract the attention of professional media and industry evaluators.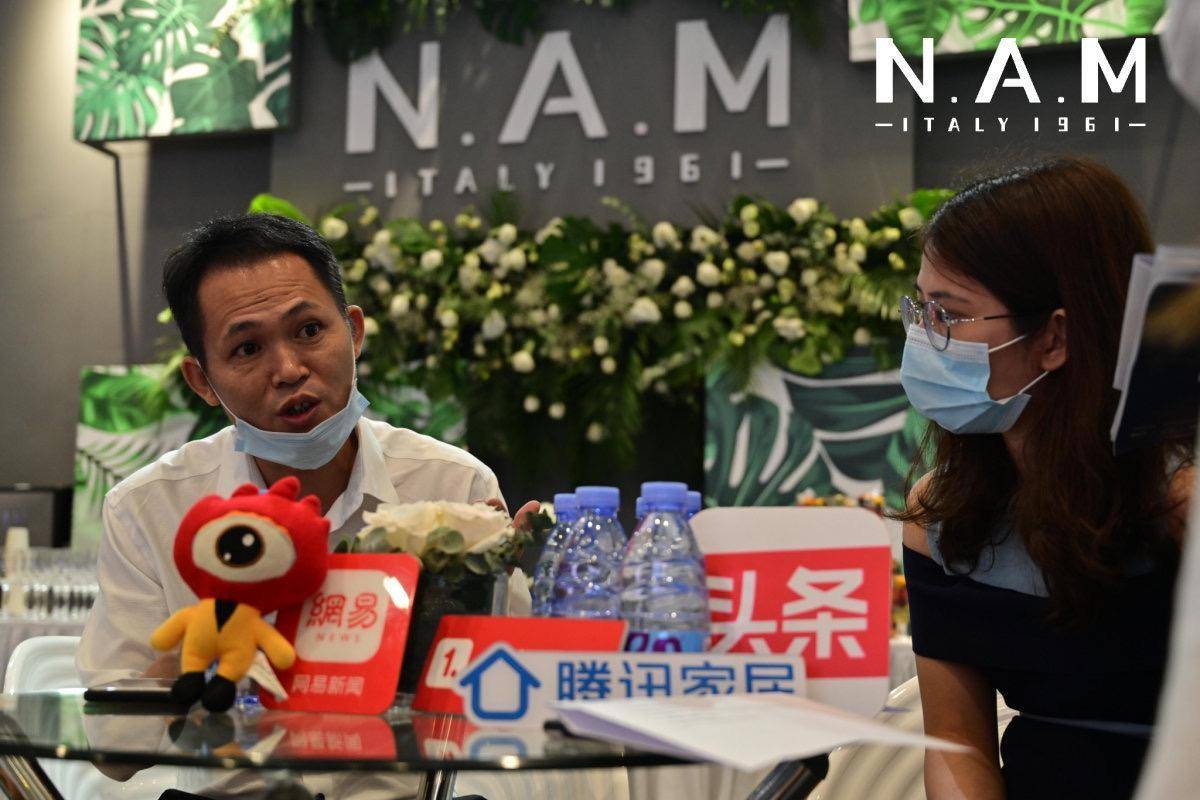 On the first day of the exhibition, many domestic first-line media such as today's headline, Netease Home, Sina Home, Tencent Home and Pacific Home interviewed Dai Wenzhou, general manager of Italy's N.A.M brand in Asia Pacific. "In the next few years, China's market does have challenges, but it is also full of opportunities. Italy's N.A.M chose this opportunity to enter the Chinese market, which is optimistic about the potential of the Chinese market, hoping to bring richer product selection and professional operation experience to Chinese consumers.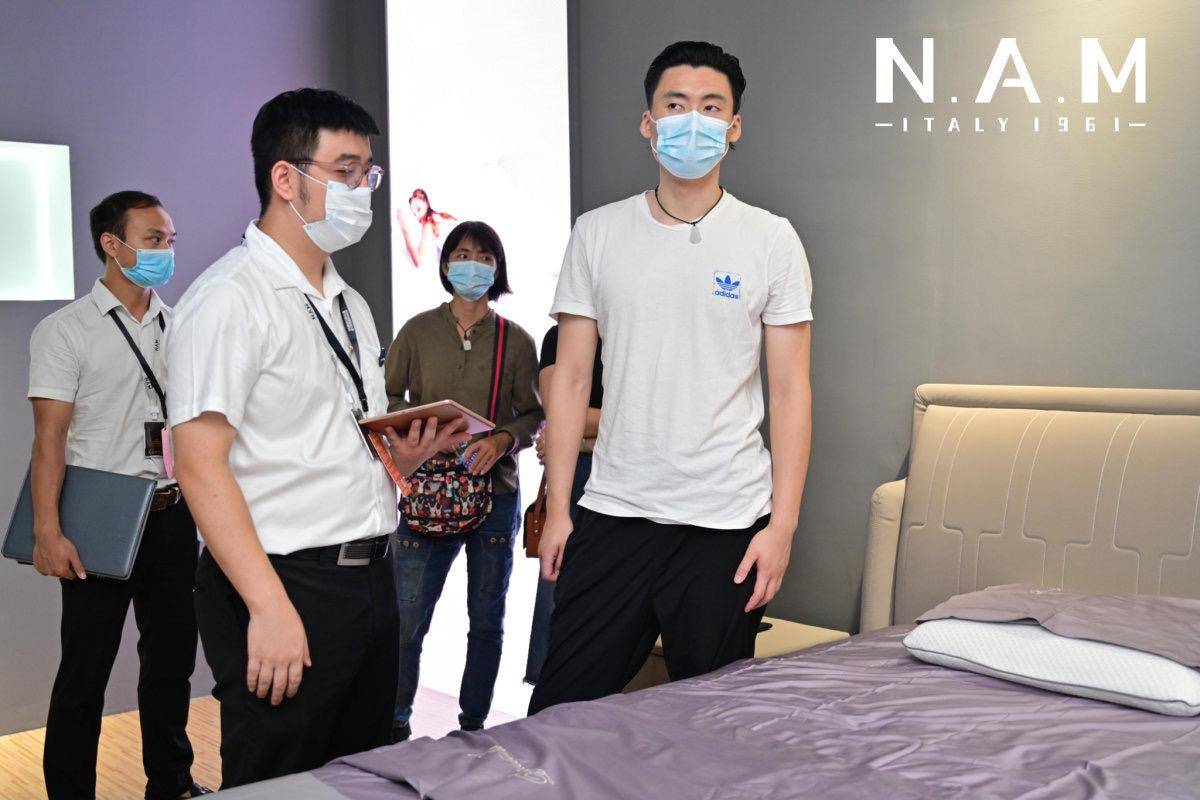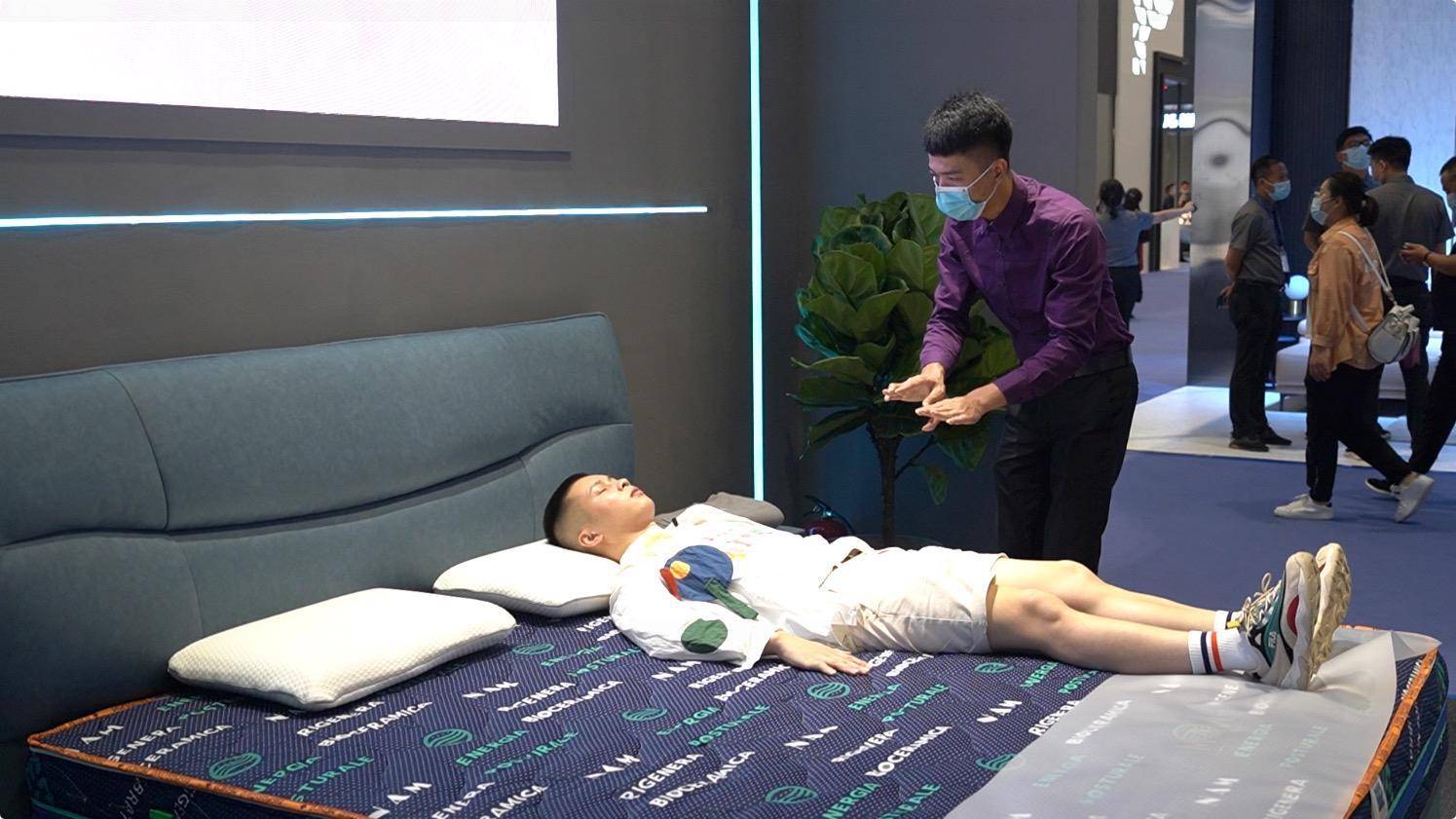 During the period, Gu Wenjing, editor-in-chief of a little information home media, Huang Zhihao, editor-in-chief of "Explosion Technology" from the media in the evaluation field, Aoki, a well-known photographer and travel micro-blogger, "Morning Orange Travel", and online celebrity Daren successively came to the Italian booth N.A.M to experience the disruptive sleep possibility brought by intelligent technology bedding.
An Youyou, the popular anchor of a live broadcast, personally started broadcasting and experienced the latest mattress products of N.A.M. During the live broadcast, the cumulative number of viewers reached 1.568 million.
With the shift of new consumers and the development of mobile Internet, the future competition of mattress industry lies not only in the innovation of materials, but also in the intervention of science and technology and humanistic care. The service concept of "I know your sleep, I know you better" is the insistence of the establishment of Italian N.A.M brand, and it is undoubtedly a prompt and guide to the market.


Compared with Europe and America, China's mattress market is less centralized and has considerable incremental market. In the future, there is still much room for growth and segmented market demand, which will bring unlimited opportunities to new brands. I believe that Italian N.A.M will bring some brand-new ideas, technologies and practical experience to the Chinese market, and expect N.A.M to win more favor and recognition in the Chinese market!