In recent years, sleep quality has been paid more and more attention. How to make better research and development on products and make more personalized and exclusive customization on sleep quality, so as to bring users a truly extreme healthy sleep experience, has become the core idea of Italian N.A.M entering the Chinese market for the first time.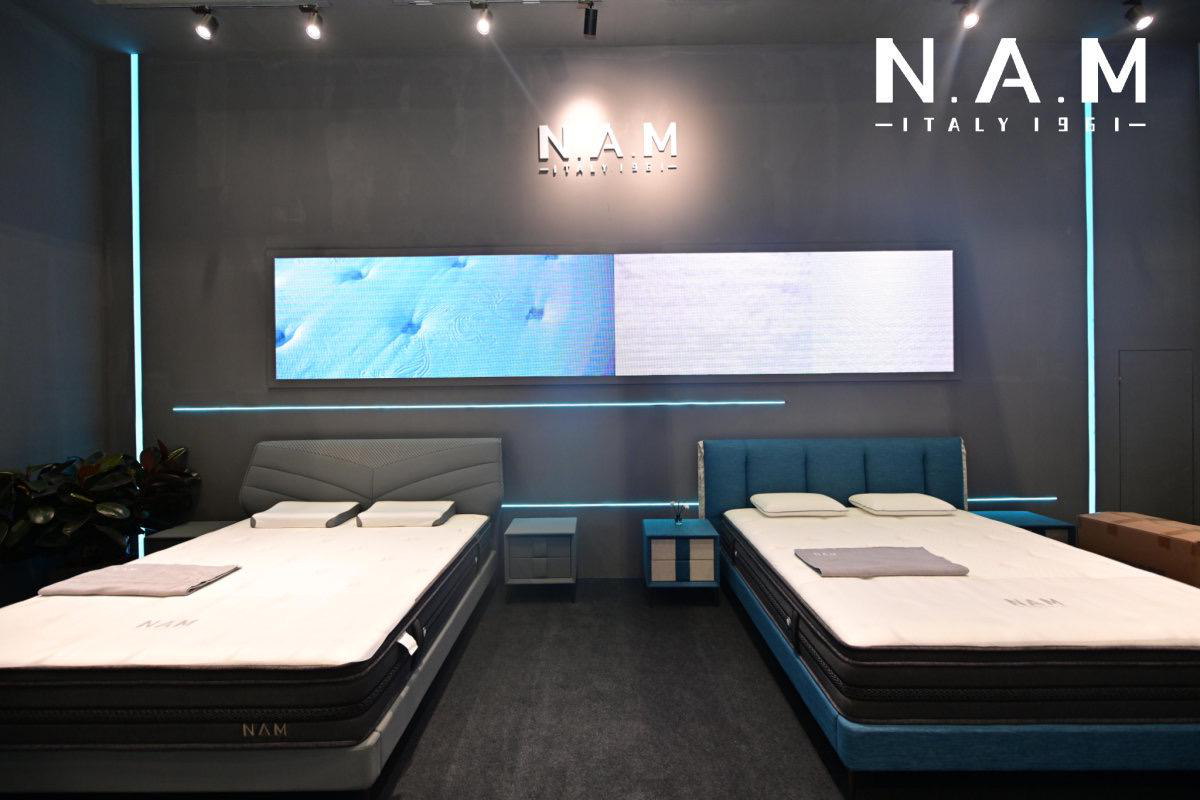 During the 2020 Shenzhen Fashion Home Design Week, the Italian brand N.A.M made its stunning debut, demonstrating the dual hard core strength of international cutting-edge "black technology" and global leading "healthy sleep system" with intelligent technology and personalized customized services. Not only has it become a hot spot for punching cards that attracts much attention and favor at the exhibition site, but it has also brought brand-new products and sleep and health experiences to Chinese people through rich and diverse product series.
"Black Technology" products are a collection, explaining the high quality and healthy sleep of "every9"
Driven by the tide of science and technology, intelligent sleep is constantly evolving, iterating and upgrading, providing a more scientific and intimate experience for fast-paced urbanites as much as possible. Italy's N.A.M participated in the exhibition with the theme of "World Science and Technology+You", and the main explosive products of the brand, "Jiamian Series" and "Pizza Series", were displayed at the booth. Both product series were extended based on the brand's "International Series".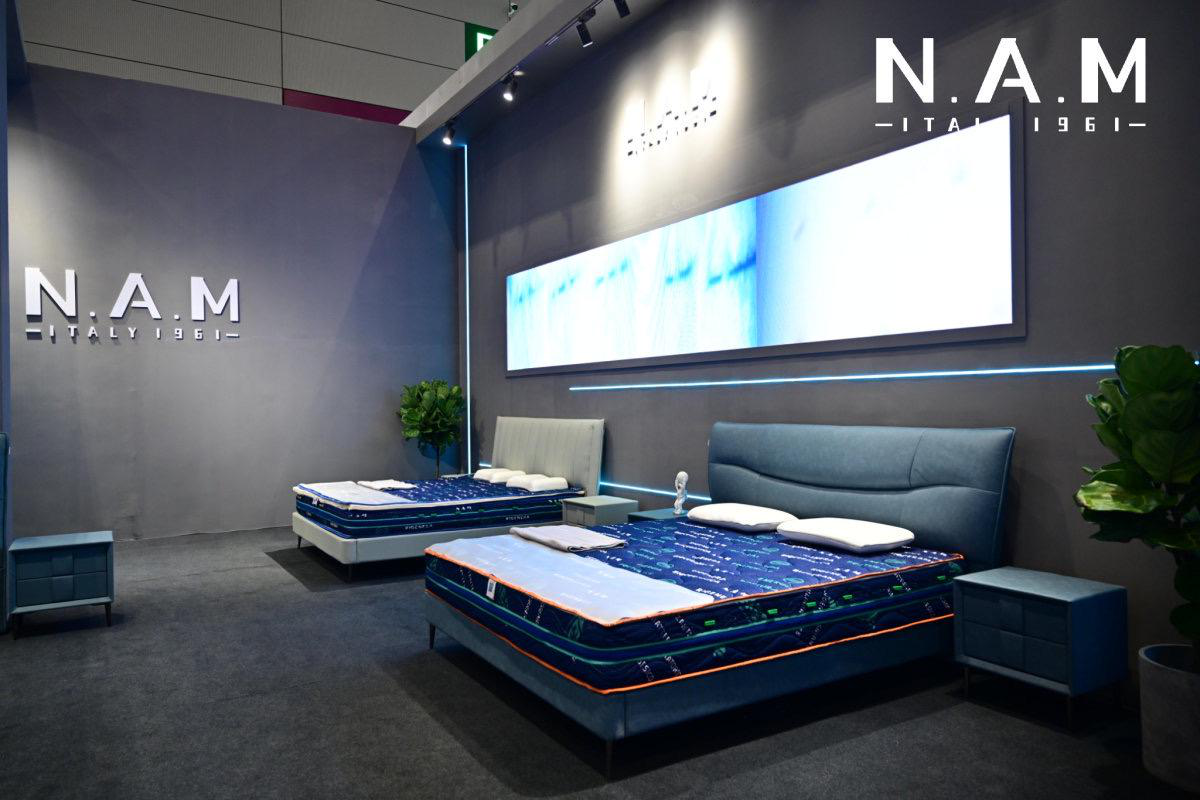 The "International Series" uses top-quality gel memory cotton, special-shaped cutting gel memory cotton and other materials, which are matched with 12 ridge-protecting adjustment strips arranged like note rhythm, and can adjust sleep feeling arbitrarily according to different physiological structures of human body, thus perfectly explaining the new experience of sleep feeling customization.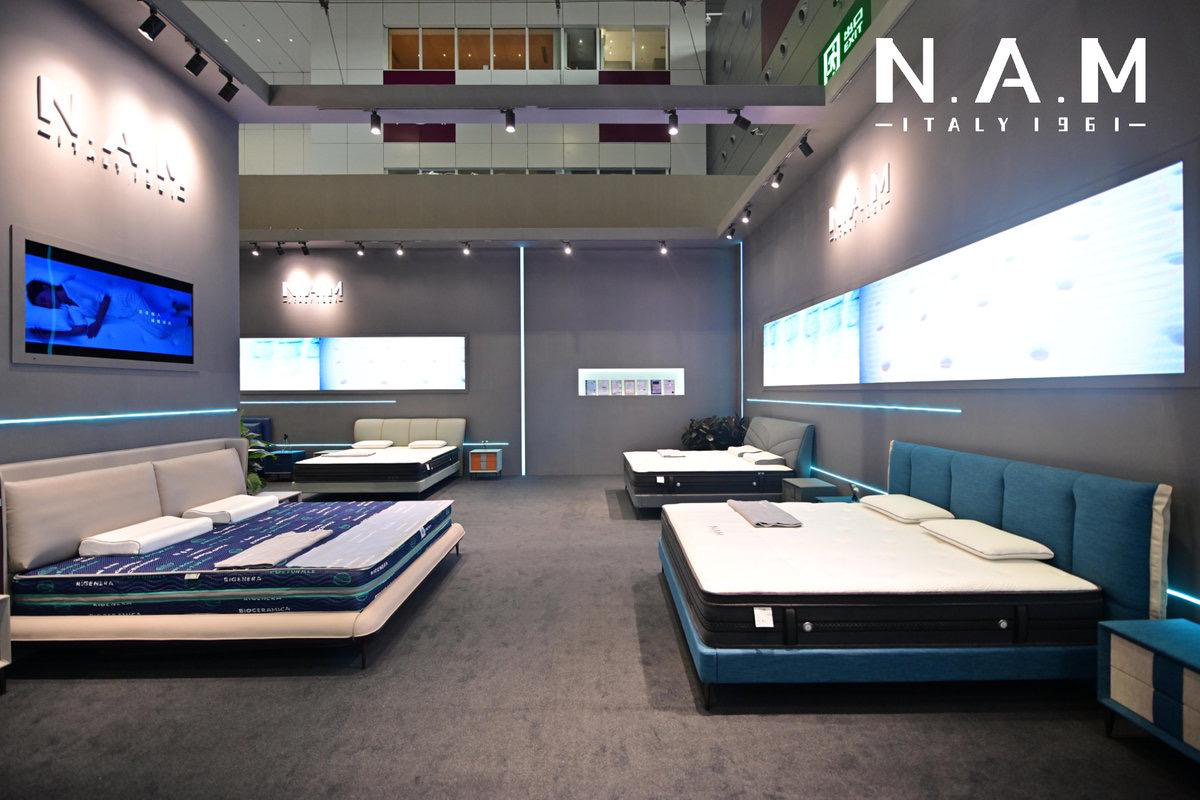 It is understood that the "International Series" is a master of the experience of the parent company Maison Banchi in Italy, and this series of products are imported from Italy; It has the European Union logo and the European CE medical device certification. The former is a safety sign that the EU 28 countries require products to be carried after strict technical testing, while the latter means that the products can be used in the field of spinal medicine, which can effectively relieve pain.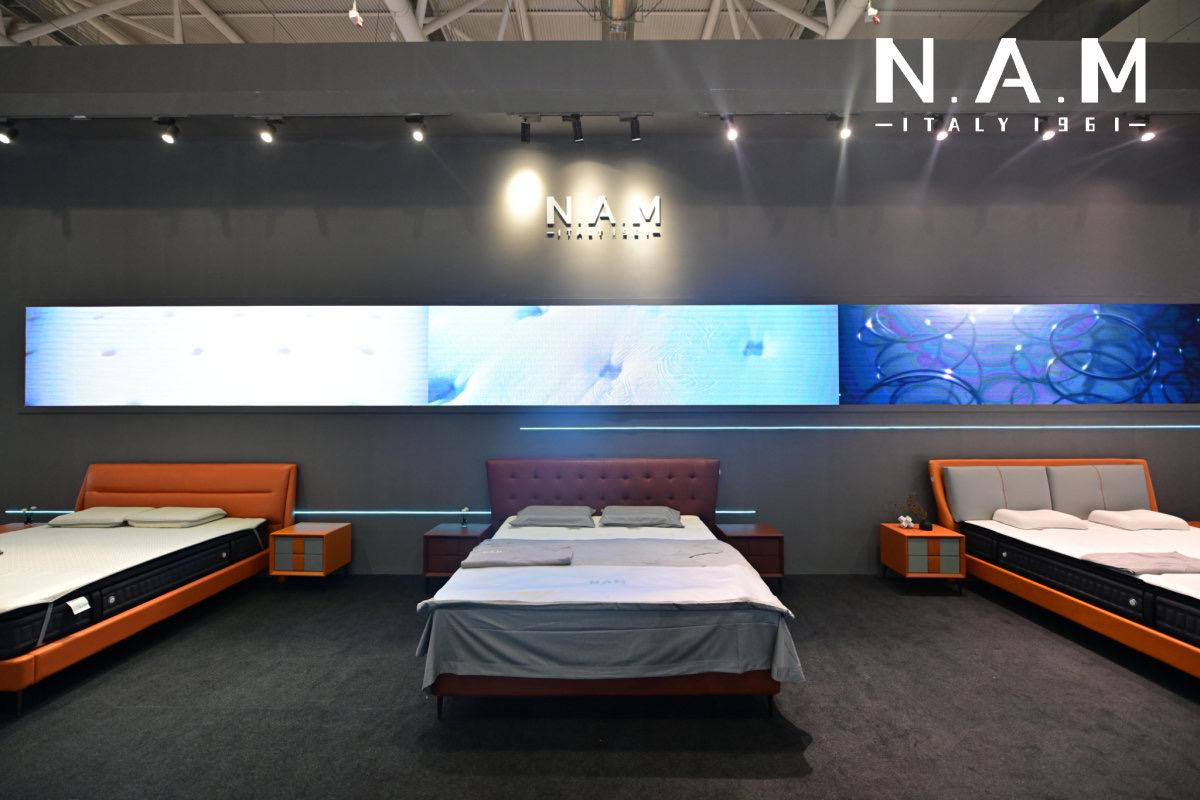 "Good Sleep Series" is intended to create an experience of "good sleep, good sleep" for users, so that users can experience a good sleep with a real sense of support, and finally get rid of the bad sleep problems such as "getting tired after sleeping" and getting back pain after getting up. The products are made of independent bagged springs, olive oil latex, plant ecological cotton and other environmental protection materials, which fully meet the environmental requirements of consumers for green and healthy homes in the post-epidemic era.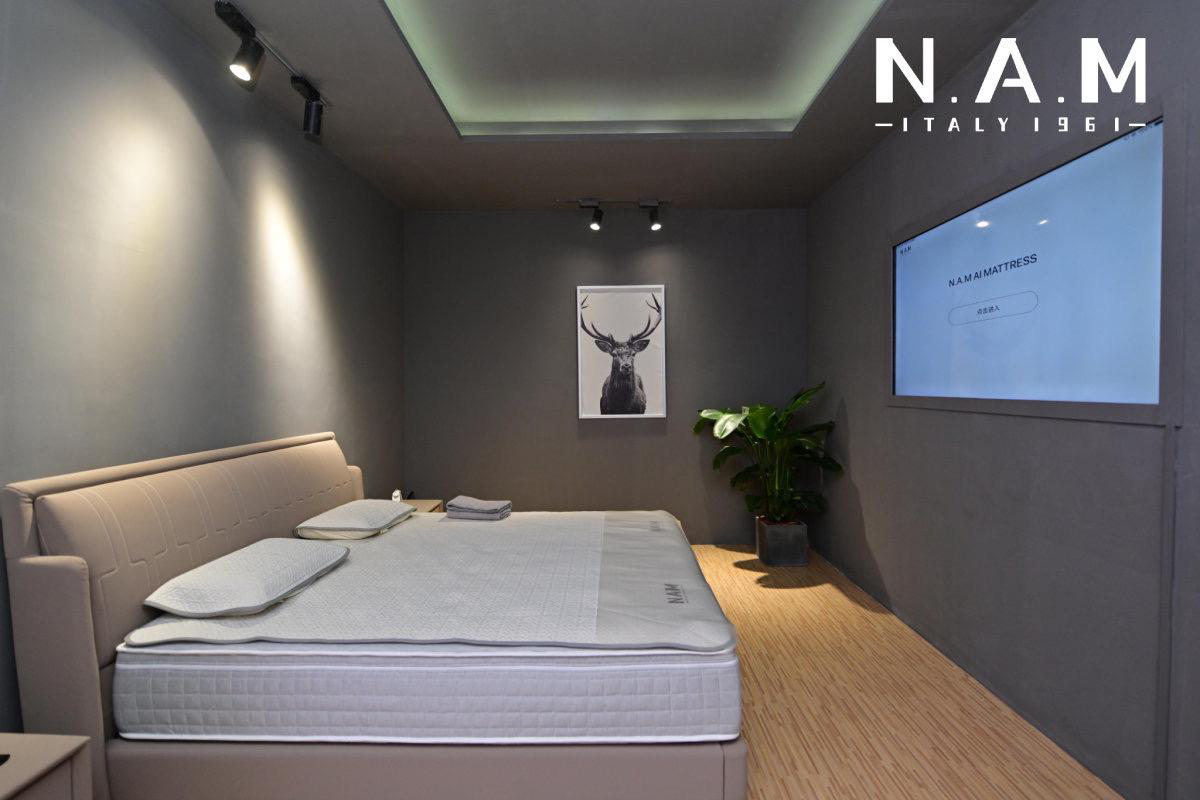 Through the division of product lines with different sleep sensations, Italian N.A.M constantly innovates in design, providing consumers with high-quality sleep experience, while expanding the personalized and customized product selection space, which is also the full interpretation of the theme "World Technology+You" of its debut.
The media flocked to interviews and became a gathering place for exhibition traffic
The "hardcore" booth design with full sense of science and technology also attracted the attention of mainstream media such as today's headlines, Netease Home, Sina Home, Tencent Home, Pacific Home, etc., and invited Dai Wenzhou, general manager of Italian N.A.M brand in Asia Pacific, to interview the layout and planning of the brand.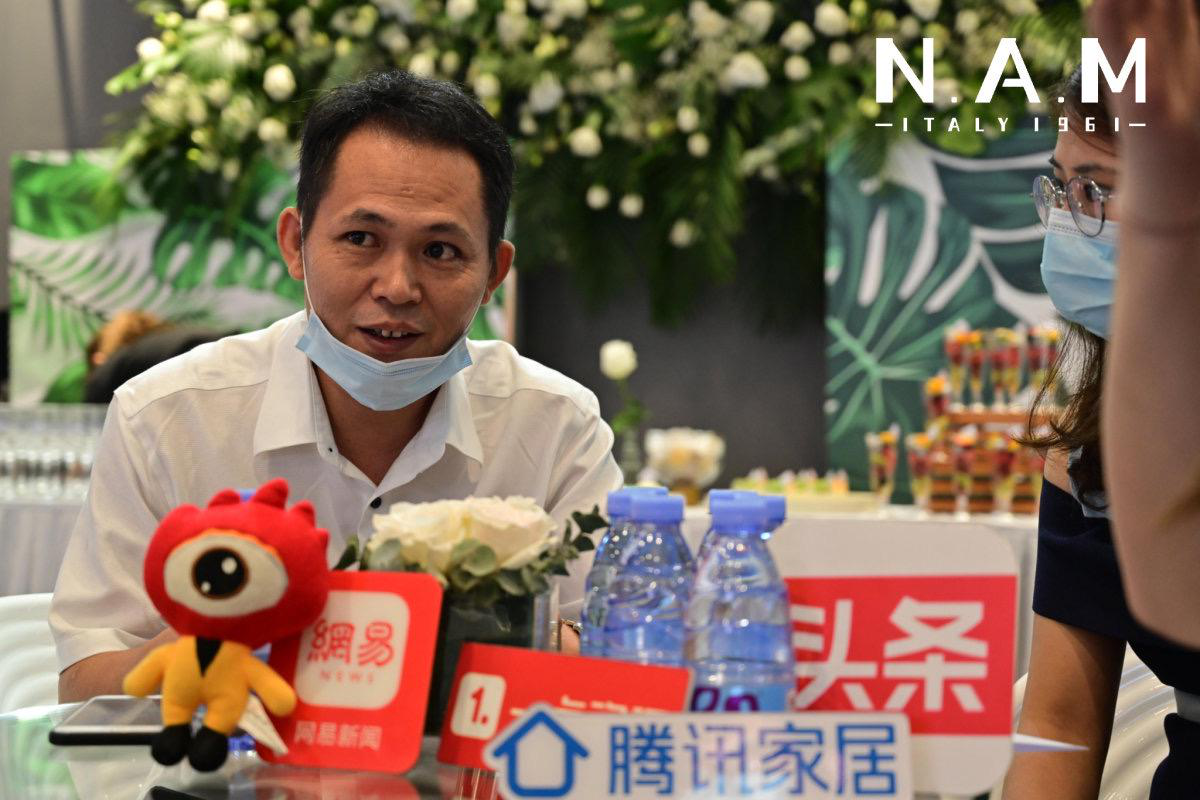 As an Italian brand that debuted in the Chinese market for the first time, Dai Wenzhou said that N.A.M's market is positioned as a mid-to-high-end route, and through market research and analysis, the brand's target customer group is the rising post-80 s. "This group has now become the main force of the social economy. Working hours are long and under pressure, and better sleep experience is needed to better restore physical function and improve quality of life."
The reason why Shenzhen International Furniture Fair was chosen as the debut platform, Dai Wenzhou said: "N.A.M has Italian descent, and Milan, Italy is the international design capital. Accordingly, we chose Shenzhen in China, through this international metropolis. The large-scale exhibition not only matches the level of origin, but also better presents the product attributes of N.A.M technology and art."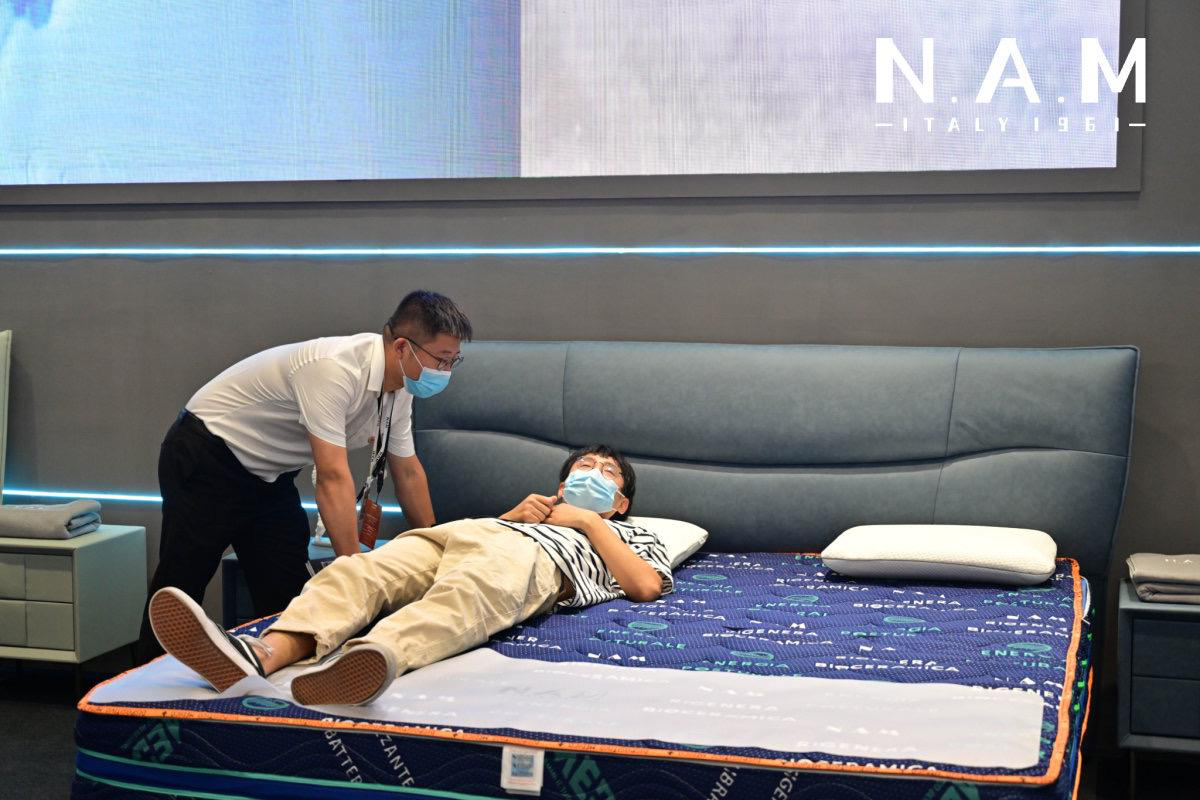 Dai Wenzhou also mentioned that the brand takes "I understand your sleep" as the starting point, and hopes to convey the service concept of Italian N.A.M to consumers and markets: let everyone in the world sleep well. "This exhibition is not only the first show of the brand in China, but also released a brand new product-AI intelligent adjustable bed", Dai Wenzhou said: "This mattress truly realizes the intelligent performance of automatically adjusting the hardness according to the human body structure. It breaks the definition of traditional mattresses and breaks through the hardness of inherent technology. At the same time, it combines intelligent monitoring, big data analysis and other technologies to provide users with perfect sleep status reports and improvement suggestions."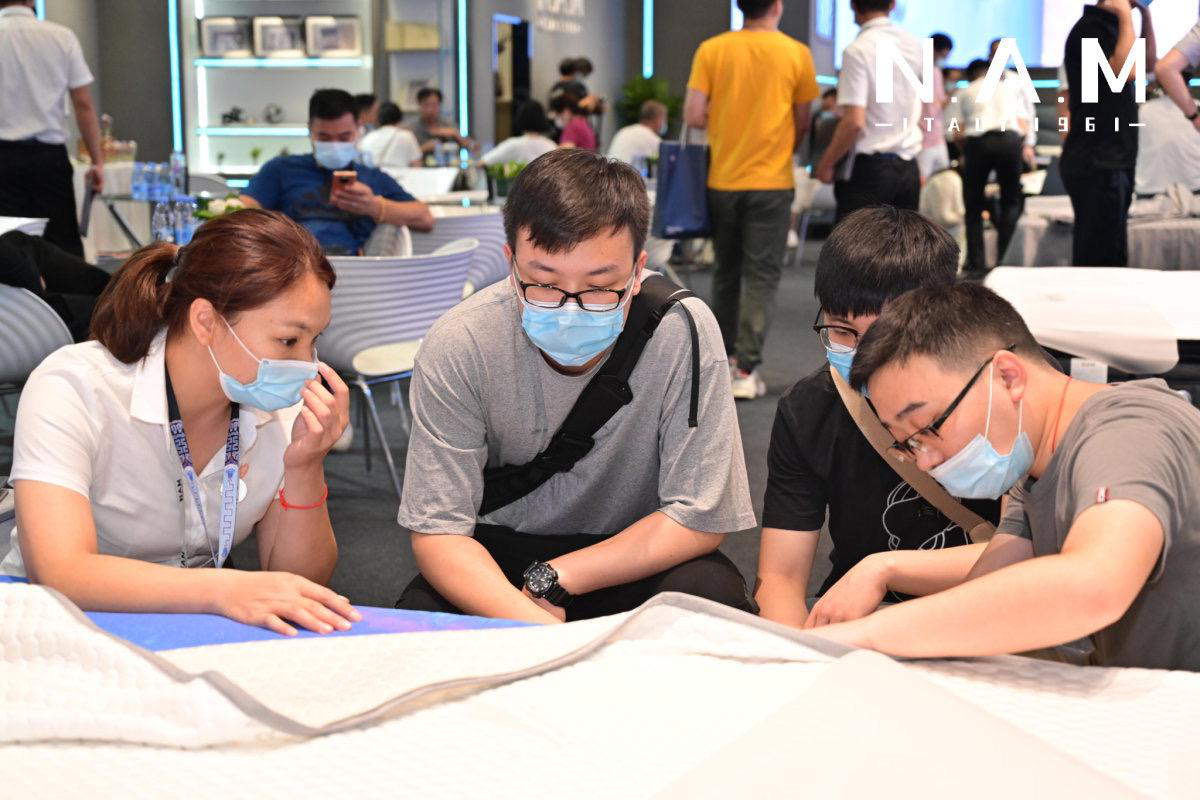 Focusing on the curatorial theme of "World Technology+You", Italian N.A.M brings a new wind to Shenzhen International Furniture Fair with new products of "black technology" and "hard core" intelligent technology. The brand-new products of "artistic science and technology, high-energy sleep" have also attracted many live audiences to stop and watch.
The audience is in a constant stream, experiencing new bedding products in the intelligent era
An immersive intelligent experience room is also set up at the booth of N.A.M., Italy. It adopts the healthy sleep environment technology developed by Maison Banchi, the parent company of N.A.M., Italy, and integrates cutting-edge technologies such as ergonomics and intelligent sleep environment to create a set of professional services and intelligent customization. Platform-Every 9, in order to provide users with a high-quality sleep experience of "eight hours more than sleeping every night", at the same time,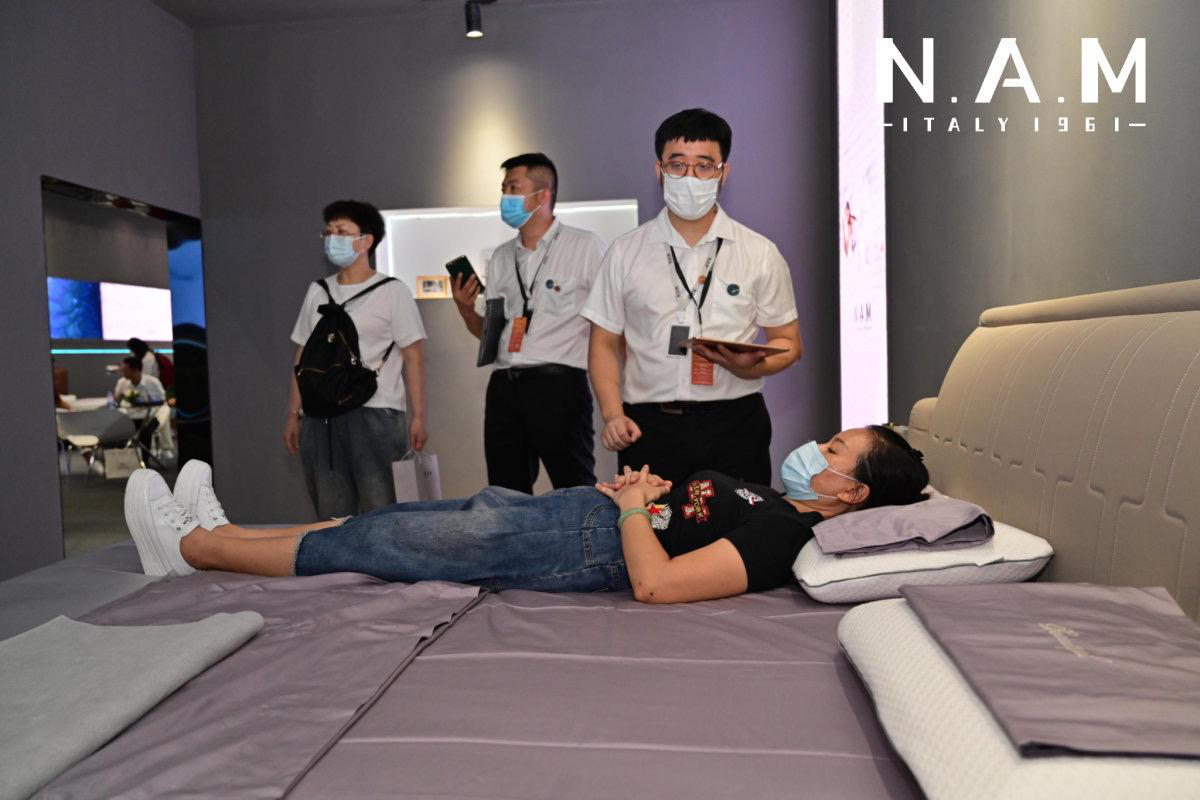 In the experience room, participants can experience this intelligent and healthy sleep system which fits the physiological structure of Chinese people at zero distance. Ms. Liang, who participated in the experience on the spot, said that she has been suffering from poor sleep quality for many years. After getting up the next day, she often has the feeling of "not sleeping enough". After just trying N.A.M for ten minutes, she can feel different. Sleep experience, "Although it is only ten or twenty minutes, there is indeed a state of entering deep sleep."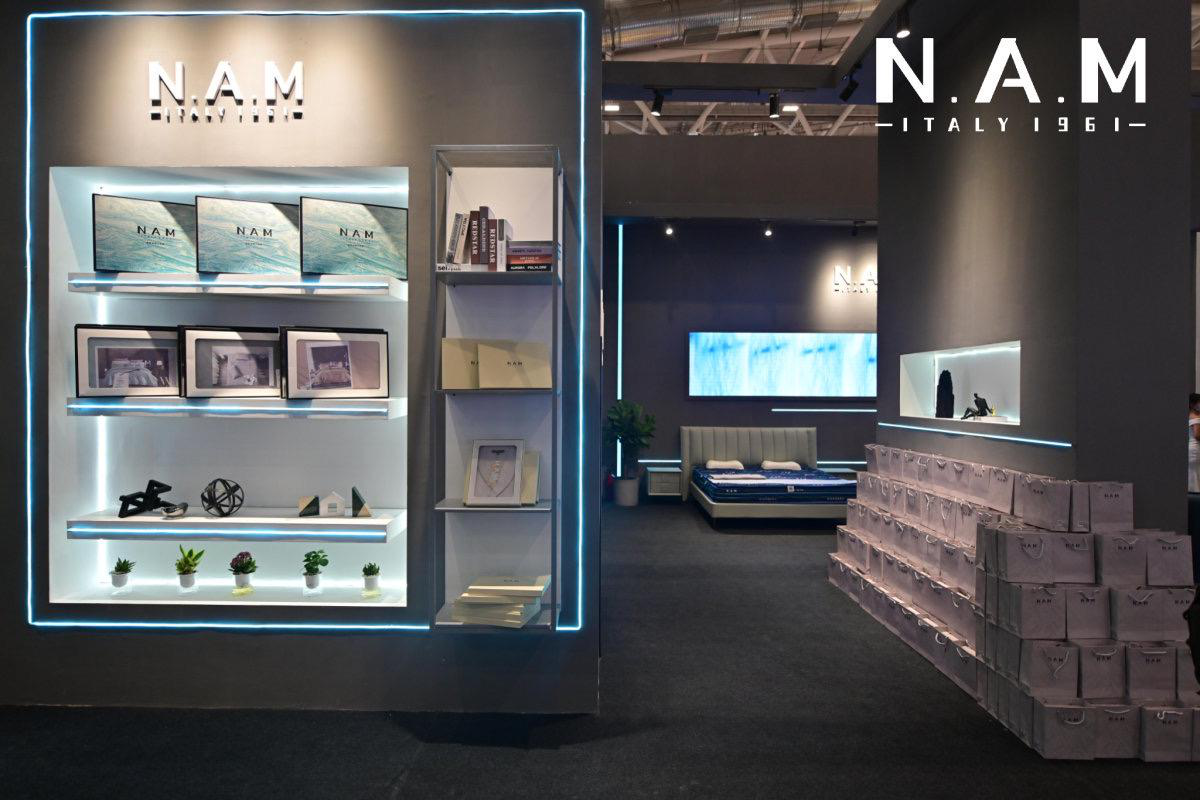 "Sleep well and have a good sleep", which seems to be a simple wish at ordinary times, has already become an extravagant hope in the increasingly bustling modern society. Italian N.A.M's debut in China is believed to provide a new and surprising solution for this luxury: introducing international leading intelligent technology, integrating big-name design and technology, innovating healthy sleep standards, and realizing the multi-dimensional integration of technology, art and humanistic care in bedding products. Life needs a sense of ritual and a comfortable sensory experience. The stunning appearance of Italian N.A.M undoubtedly injects new fashion into the domestic bedding market!