To understand the latest big-name trends and home trends, watching exhibitions is the best way. Shenzhen Fashion Home Design Week and the 35th Shenzhen International Furniture Exhibition were held from August 20 to 23, with an exhibition scale of 320,000 ㎡, gathering 700+ famous exhibitors and 200+ theme forums, which can be called the vane of 2020 home trends. At the exhibition site where major brands are competing for each other, the debut of Italian N.A.M in the Chinese market, which is one of the representatives of high-end bedding, is the most anticipated event in this home feast.
On the occasion of the launch, Wen Jing, editor-in-chief of Information Home, received an invitation from N.A.M. Italy to visit the Italian N.A.M booth of Shenzhen Furniture Fair as an experience officer. The experience officer experienced the mattress products from the perspectives of design, humanization, quality and technology. Let's take a look at what surprises Italy N.A.M has brought us in the field of healthy sleep.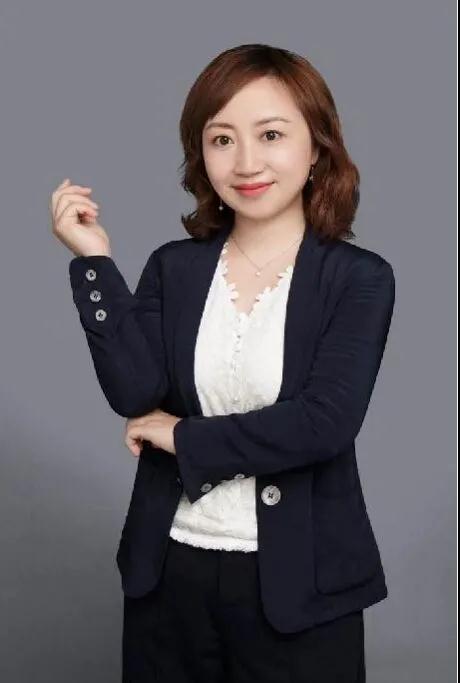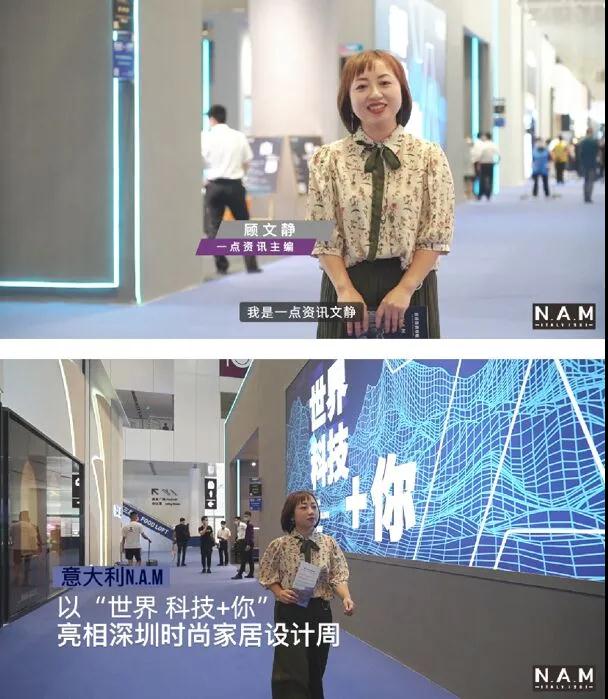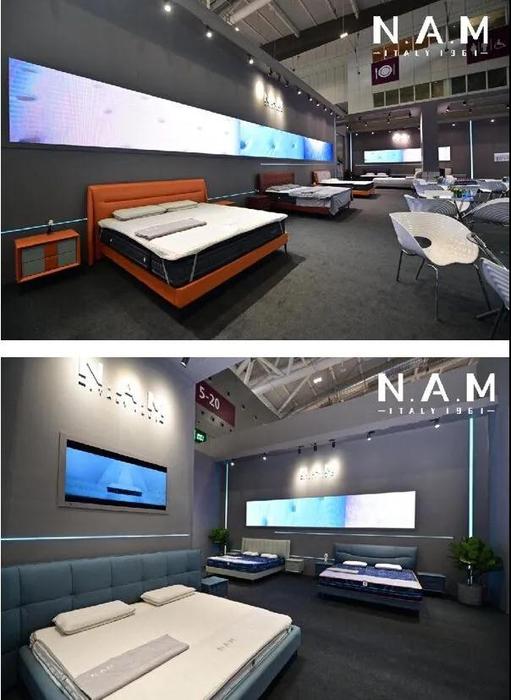 体验官首先被意大利N.A.M展区高贵典雅的设计所吸引:由时尚的高级灰、代表简洁的星空蓝和代表智能的黑白色组成了本次展区的主视觉,看起来非常大气舒服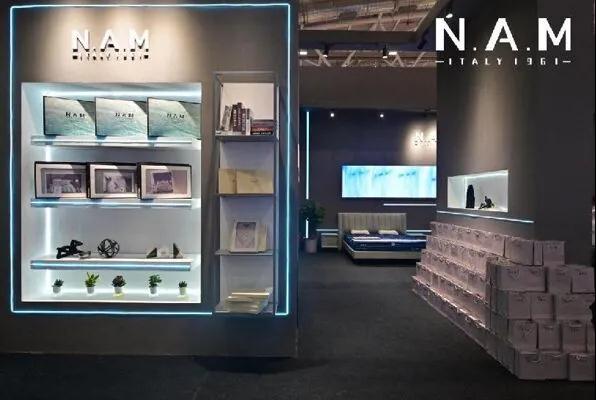 人的一生中,睡眠占了近1/3的时间,它的质量好坏与人体健康有密切关系。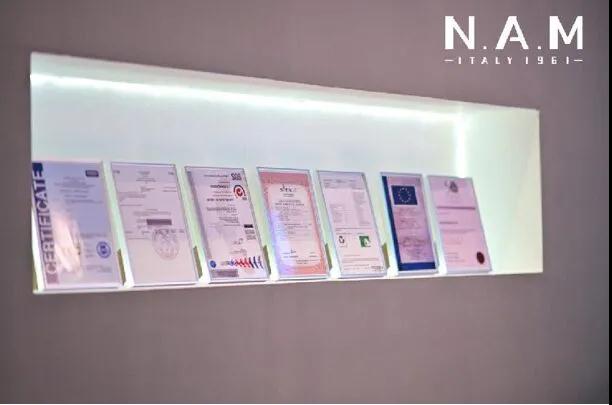 作为全球健康睡眠引领者的意大利N.A.M,如何向消费者讲述睡眠与床垫的故事?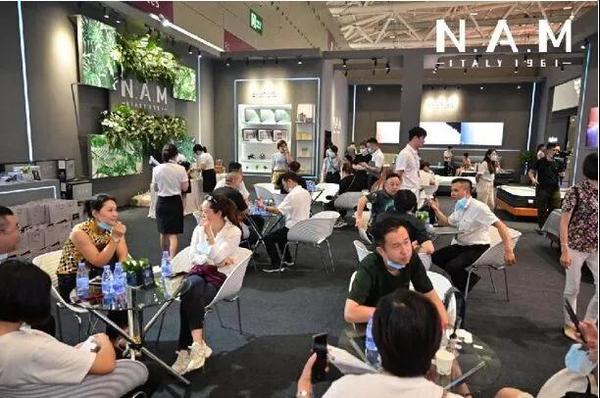 At the popular booth, we began to enter the formal experience!
The first stop of sleep experience: Italy N.A.M "Good Sleep Series" JM011 Bay Mattress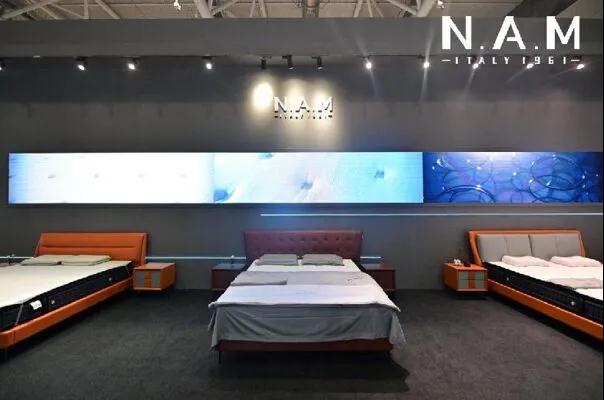 Health is just needed for sleeping, while romance is necessary for the young couple's life. The experience officer came to JM011 Bay Mattress Exhibition Area of Italian N.A.M "Good Sleeping Series", which was created for the two people's sleeping life. This mattress uses timeless black and white design, which combines elegant and noble styles to create a quiet atmosphere.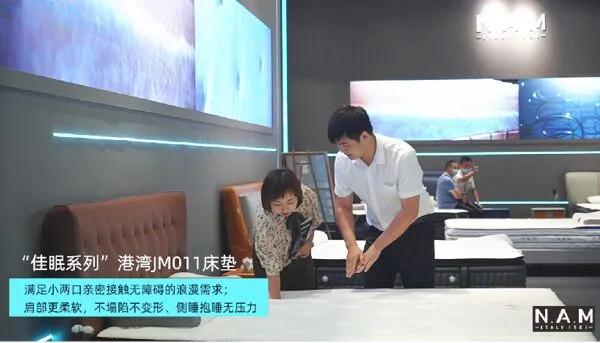 Hand gently brushed the bedside, soft to the touch, and the skin-friendly fabric with silver silk is very smooth, which shows that the materials and process details are well done.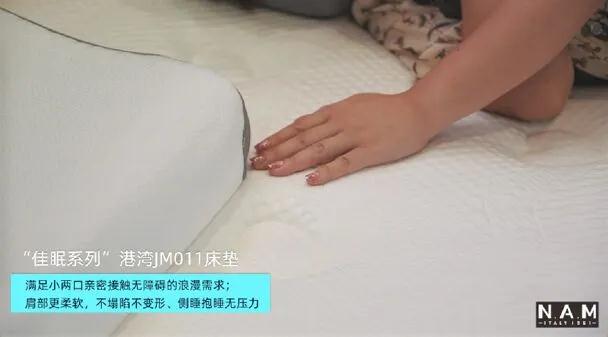 Looking closely, the experience officer also found that there were many feather patterns on it, and many "heart-shaped" concavities and convexities were designed, which made people feel romantic.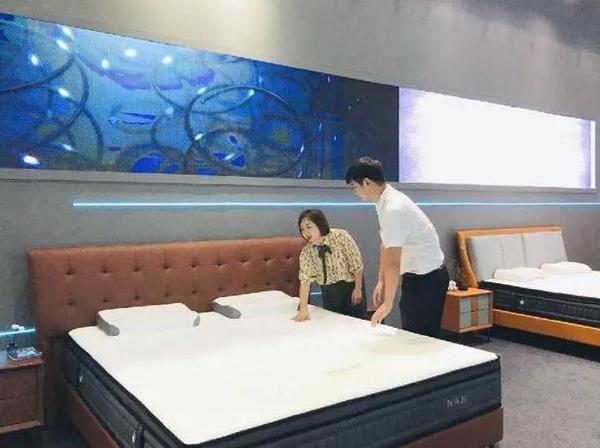 The most exciting thing is that the shoulder area of this mattress has a bay area that can sag downward. After we put one shoulder and arm on it, this area sags downward, and it is obvious that the mattress contributes most of the strength. This design hides a romantic opportunity: the happy couple hug to each other and sleep, but the arm stays in the same position for eight hours, which can easily lead to "sleeping numbness", but JM011 Harbor Mattress of "Good Sleeping Series" can effectively reduce the burden on elbow joint. There is no pressure for people to sleep on their sides, which is really very intimate!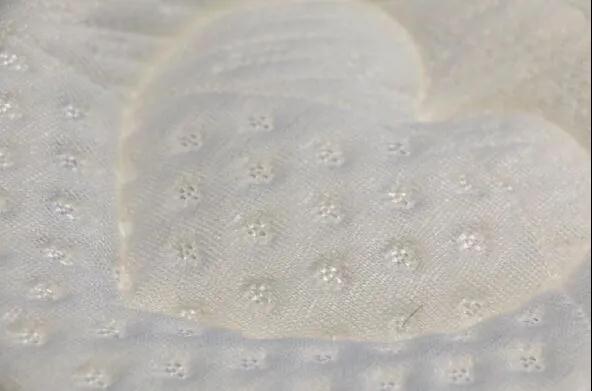 Of course, in the post-epidemic era, more and more people pay attention to mattress materials besides the value and feel. We can see that this mattress is made of independent bagged spring, olive oil latex, plant ecological cotton and other environmental protection materials, which is very in line with the new trend of environmental protection and green home, making people feel more at ease. Family life should be romantic and environmentally friendly.
The second stop of sleep experience: Italian N.A.M "international series" Romain GM002 mattress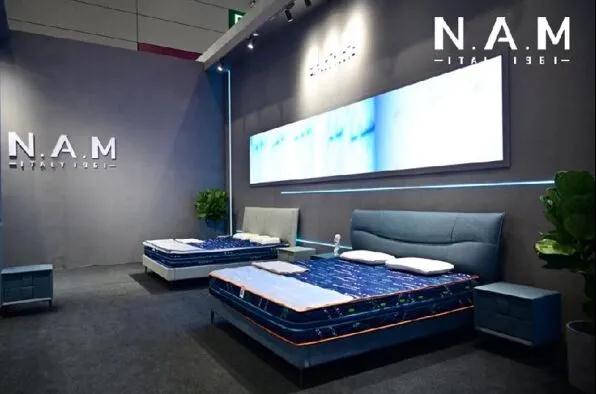 The design style of "International Series" Romain GM002 mattress comes from Rome Gate in Milan, Italy. It is dreamy and fashionable, combining gentleman's characteristics and hippie culture, and has a high degree of fashion expression.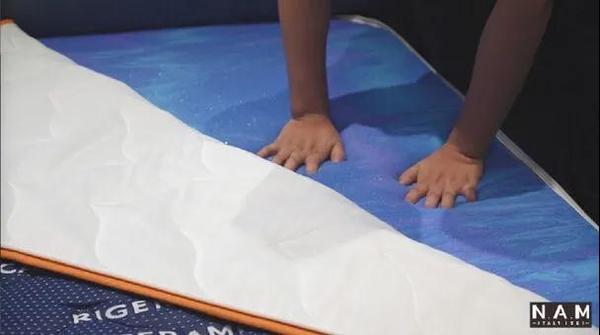 At the sight of this mattress, the experience officer's eyes are attracted by its high-end elegant appearance. It is based on the deep blue of the night sky, and its design refers to the artistic expression of starry sky and tide, which makes people feel like they are on the shore of the Mediterranean Sea under the starlight, creating a relaxed and comfortable sleeping environment.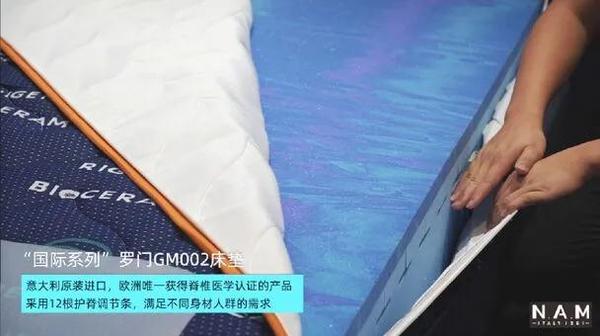 Put your hands on this mattress, and it feels very comfortable. The application of top-quality gel memory cotton, special-shaped cutting gel memory cotton and other materials makes the whole mattress not collapse when pressed by gravity, and the surface of the mattress can immediately recover its elasticity after being pressed for a short time. Sufficient supporting force makes it very comfortable to lie on one side, lie flat or lie prone. Moreover, the gel memory cotton is very breathable and cool, which makes people feel cool in the high temperature weather in Shenzhen and Guangzhou, so it is very suitable for us to use.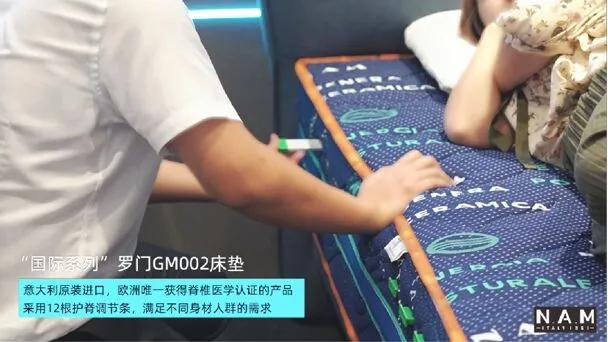 Another important point in the design of this mattress is that there are 12 spine protection adjustment strips developed jointly with spine experts on both sides of the mattress, which can allow us to adjust the softness and hardness of the mattress according to our own body shape, so the mattress and spine fit well after sleeping, and the body can feel massage when sleeping. At the same time, the freely adjustable design on both sides can perfectly match the different height requirements of partners, which is very humanized.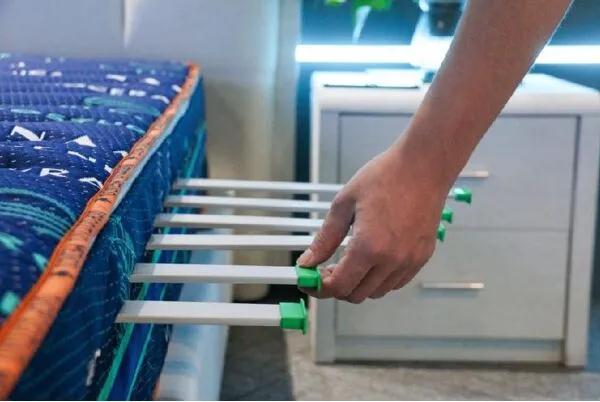 According to the staff, this series of products are imported from Italy, with the European Union logo and European CE medical device certification-the former is a safety sign that the EU 28 countries require products to be carried after strict technical testing, while the latter means that the products can be used in the field of spinal medicine, which can effectively relieve pain. In fact, many people have been working in offices for many years, which seems to be easy, but the lumbar spine has already been overwhelmed. However, the Italian N.A.M "international series" Romain GM002 mattress can really keep people in a good sleeping position, and the waist protection function is really great, so it is a good choice for healthy sleep, so there is no need to worry about "getting tired as you sleep".
The third stop of sleep experience: AI intelligent adjustable bed in N.A.M, Italy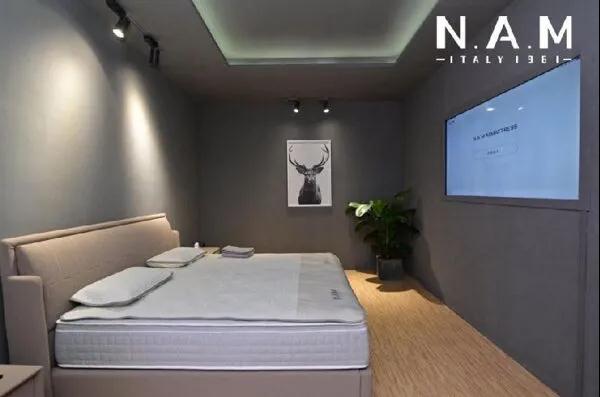 In 2020, intelligence and AI have become an important boost to a better life. We are getting used to the power of science and technology, for example, curtains that are automatically opened by sensing light, air conditioners that remotely control switches, and cameras that monitor pets at home at any time, which bring convenience and happiness. So can the mattress realize automatic adjustment of sleeping position and monitoring of sleeping condition? At the booth in N.A.M, Italy, we saw the future from the AI intelligent adjustable bed in the immersive intelligent experience room.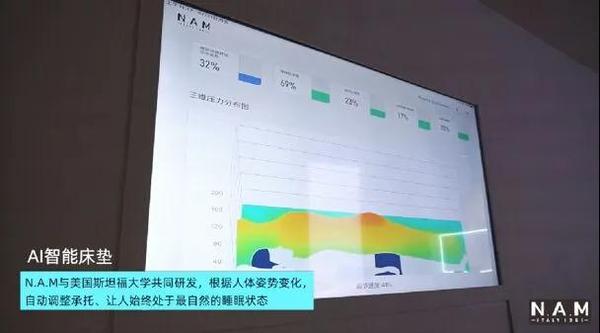 When you come to the immersive intelligent experience room, you are confronted with a sense of science and technology! This series is mainly aimed at smart home applications, so the overall design is calm and concise, and a large screen projection is also set on the wall, which can display data information such as spine fitting degree, position support degree, blood circulation patency degree and breathing patency degree on the spot. Through the comparison before and after intelligent adjustment, people can see at a glance the extent to which intelligent products improve sleeping environment.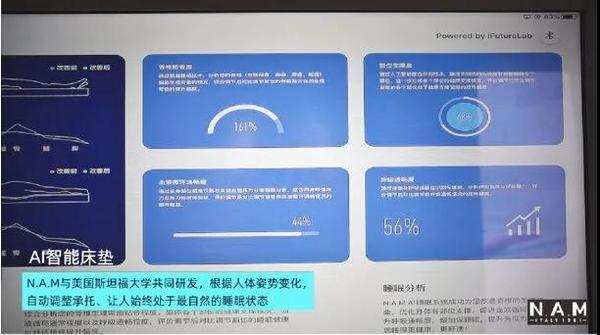 It can be said that the innovation of technology brings a brand-new presentation of design, and also makes the spatial layout re-interpret the new trend of practicality and aesthetics.

Experience officer is especially interested in AI intelligent adjustable bed. Italy's N.A.M has combined mattresses with application apps, and created the "every9" platform which integrates professional services and intelligent customization, so as to provide users with a high-quality sleep experience of "one hour more than sleeping eight hours a night".

At the same time, sub-health status is also an important factor to reduce sleep quality. AI intelligent adjustable bed can provide sleep report and disease warning for human body by monitoring people's heart rate and breathing during sleep, combined with big data analysis technology. In the ten minutes of trial, although the time is short, the heartbeat and respiratory rate can be seen on the big screen. In this way, we know our sleep quality at any time, and we can know our health status in time. It can be said that Italian N.A.M has created an "intelligent and healthy bedroom space" for us.
|Experience officer summary|
During this visit, I was most impressed by the bedroom space concept of "every9" put forward by Italian N.A.M, that is, the experience of "high-quality sleep one hour more than sleeping eight hours a night".